About me Jason Koster. I was born and raised in Houston Texas. I am in no way, shape or form a cowboy but, I know good BBQ. I loved playing little league sports as a kid but, in the 8th grade my Mom put a camera in my hands and I never looked back.  I went to an art high school and then on to get my BFA in commercial photography at the College of Creative Studies in Detroit.   I learned photography in the days of film & darkrooms but have transitioned into technology nicely.  I have shot everything from 35mm all the way up to 8×10 cameras.  Before I even graduated college I was working in the automotive advertising industry in Detroit.  I eventually moved out to Phoenix Arizona.  I thought it was just gonna be a temporary move but, I fell in love with the desert and… well… here I am. Happy as a clam.  Assuming clams are happy.
I love the variety that comes with photography.  Some projects are technical and some are more creative.  It's always stimulating.
When people have asked, what do you want to shoot?  I couldn't imagine limiting myself.   That would be like asking chef to only cook one dish.
I tend to travel quite a bit of work so in my free time I enjoy the peacefulness of being on the trails hiking, biking, jogging or backpacking.  I'm still a sports fan too.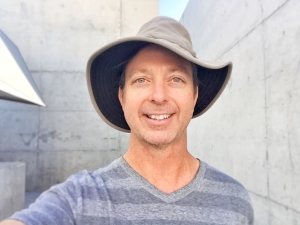 What am I up to with my business?
I have recently acquired my FAA 107 drone certification.  I will be creating both stills and video.  A new gallery will be appearing on the website eventually.
I have about 75 high quality John Muir Trail panoramic images to assemble. I anticipate a coffee table book and gallery showings to follow.   Some of the prints could be up to 10 feet long!
I have been working quite a bit with a team that shoots stills & videos for Yamaha Motorsports so that has inspired me to create some video of my own.
I am intrigued by the vertical panoramic concept and think there could be some interesting uses for that.
When I need a break from these things I will probably start my 8×10 polaroid series.
You will probably see blog posts about all of these things.
Oh… I guess I should add set up a blog to this list.
My awesome site created by: Made Better Studios